Helping Mom or Dad when they are not accustomed to listening to you for advice can be tough. This is why I wrote The Unexpected Caregiver.
You may have just been recruited to help Mom after she fell and was taken to the hospital, or you be in the midst of caring for Dad with dementia and you're doing so much for him, that your own family is complaining about you not being around for them.
Family caregiving is not for the faint hearted, but I think my book can help. I address "elephant-in-the-living-room issues" such as, what to do if your brothers and sisters don't help out, or why Mom can no longer recognize her grandchildren, or when to make a move into assisted living, and even how to handle Dad dating after Mom dies.
Not only do I help you take care of your parents, but I show you how to feel supported, appreciated, not guilty, and energized while you're giving care… and after your caregiving role is over.
Please let me help you. Order my book today, then get in touch if you need further support.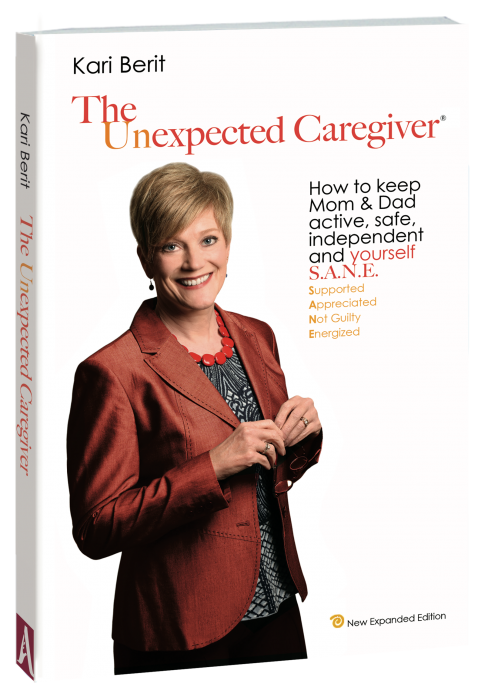 Commitment to Caregiving & Aging
Since 1996 I have researched, interviewed, and presented on growing older and giving care. I am here to help support you.
During my Master's degree I conducted extensive research on Alzheimer's caregiver burnout, mental fitness, and ways to eliminate age discrimination.
Over a decade of work, I devised better ways to engage residents, created a deeper understanding of the aging process, and fostered harmonious senior communities.
It all began with a talk about the 'A' word in 1987, and has blossomed into 30 years of energetic and informative keynote speeches and workshops on caregiving, aging, and brain fitness.
Families are charged with taking care of mom and dad with little or no training. Through 1:1 coaching, a radio show, books, and presentations, I continue to develop ways to support caregivers.
Kari is a dynamic speaker on the topics of aging, caregiving, elder care and brain fitness. More videos are available on her YouTube channel.
Whether live, virtual, in writing, or one-to-one, my goal is to deliver timely information with energy, humor, and compassion.
Speaking
Are you looking for a dynamic, humorous, engaging and knowledgeable speaker on aging, caregiving, elder care, brain fitness or related issues? Look no further than Kari Berit.
Caregiver Support
The Unexpected Caregiver Support Groups are designed to help meet the need of family caregivers seeking regular support on their caregiving journey.
Media
Kari Berit, passionate, authentic, down-to-earth, and fun. She connects immediately with her audiences. Kari has spent her career helping people stay SANE*
Radio & Podcast
Kari Berit hosted a weekly radio show for five years, accumulating over 200 shows, offering the much needed support to family caregivers. Some of her favorite shows will be available for download.
Live events, one-on-one coaching program, training systems and group workshops will help close the gap between where you are and where you want to be.
There are no upcoming events at this time.
"Kari Berit is a dynamic and engaging speaker … She used touches of humor to make the audience feel that the emotions and stresses of caregiving are shared by everyone and that it is okay to feel frustrated at times."
Denise Smith
National Association for Family & Community Education